Seaglex Software has developed a set of technologies that help companies to collect, categorize, and geo-tag unstructured content - Web pages, news articles, documents, and other textual data – and then present it in the GeoRSS formats for easy integration with mapping software and GIS solutions. All incoming content is initially converted into the industry-standard RSS format; this step will be omitted if the data is already available as an RSS feed.
Unstructured Content

Structured RSS Data

GeoRSS Feed
Our sophisticated Web harvesting tools enable us to collect and analyze content from a wide variety of sources, including news sites, blogs, and social networks. Currently, we offer very extensive coverage of English-language sources; our technologies, however, can be easily adapted for non-English publications as well.
All incoming content is categorized by topic using Naïve Bayesian statistical algorithms and other machine learning techniques. In addition to our standard taxonomy that includes such topics as business, financial, politics, sports, science, health, real estate, retail, travel, restaurants, local news, crime, and many others, we also offer client-specific taxonomies. For example, our real estate customers are interested in specific property types; for them, we've created real estate subcategories that include office, industrial, retail, multifamily, hospitality, senior housing, etc.
Using unique natural language-processing techniques, our software further analyzes incoming articles and detects both named entities (date/time of publication, names of people, organizations, products, etc.) and geographical locations. Unlike other solutions currently on the market, our software geocodes specific street-level address information; our software recognizes even incomplete and raw addresses, including street intersections, thus providing the most accurate location data available.
The following example illustrates the steps described above; from the incoming unstructured data stream, our software selected a restaurant-related article, geocoded it, and the resulting GeoRSS feed was displayed using Microsoft Bing Maps™: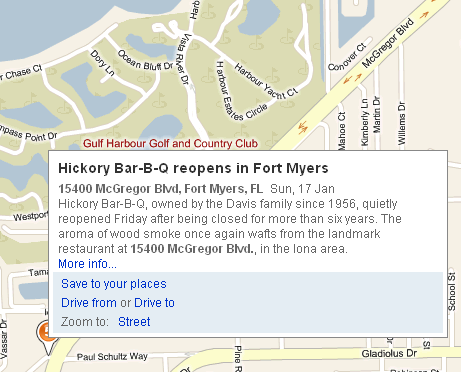 Please contact us to inquire about the full range of GeoRSS News feeds generated by Seaglex Software, our related services, and converting your existing RSS feeds to GeoRSS.